We are a product design studio based in Northern California. We live for the outdoors and draw inspiration from the connection between individuals and their outdoor pursuits. No matter the pursuit, our goal is to stoke the passion through each product we create.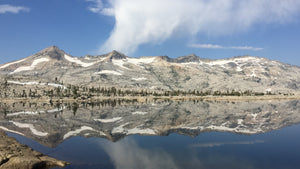 Behind the Name
Growing up in Northern California, the Sierra quickly became one of our favorite playgrounds. Desolation Wilderness, a protected wilderness area just west of Lake Tahoe, is particularly memorable. Heading northbound on the PCT from the Echo Lakes trailhead you pass the wilderness entrance sign and continue climbing.  After the trail levels out, you enter a beautiful high alpine meadow called Haypress Meadows. Haypress rests at an elevation of 8,310 feet and serves as a gateway to the more remote and rugged terrain of the Sierra crest. 
One hundred eighty miles to the west and 8,000 feet lower is a campground in the Marin Headlands called Haypress. We often pass the campground sign on a trail run or hike along the endless coastal trails, some of the most beautiful territory in the world.
These two locations couldn't be more different, but they showcase the diversity of public lands available for outdoor adventure.
When it came time to name the company, Haypress checked all of the boxes.
Our Logo
Our logo is inspired by the unique shape of the wilderness signs found at the entrances to national wilderness areas across the country.  The angled side of the sign points into the wilderness.  This distinctive shape reflects what Haypress is all about.
Youth & The Outdoors
Playgrounds like the Sierra and the Headlands are the lifeblood of the outdoor community and had a profound impact on us as we were growing up. Understanding that not everybody has the resources required to experience the outdoors, we are dedicated to helping youth connect to nature through select partner organizations.  Learn More