Sustainability is a core tenet of our company. Although the apparel industry is making strides to become more environmentally conscious, we acknowledge that the industry has a long way to go.  We are dedicated to doing our part by keeping the environment front of mind in every decision we make and will continue to evolve to minimize our impact.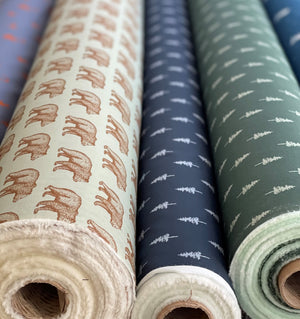 Manufacturing
We proudly cut & sew all of our shorts right here in Northern California. Local manufacturing supports jobs, reduces our carbon footprint and allows us to closely manage the quality assurance process.
Fabric
All of our shorts are made with 100% GOTS certified organic cotton. Organic cotton is grown naturally without the use of harmful chemicals or GMOs and uses 91% less water than conventionally grown cotton. Organic farming also keeps farmers and their families safe from toxic chemicals in the fields and in their food and water supply. The cotton we use originates in India and the finished fabric is sourced from South Korea due to their extensive expertise in digital printing.
Quality
Producing a high quality, long-lasting product is one of the best ways we can reduce our impact on the planet. We have meticulously designed our shorts to last as long as possible. We use double-stitching throughout the garment to ensure maximum long-term durability.
Packaging
We use 100% recycled (and curbside recyclable) kraft mailers to ship our shorts. We use 100% recycled poly bags to protect each pair of shorts during transit. We are exploring poly bag alternatives, but the integrity of the product is our number one priority in order to avoid damaged goods that end up in the landfill.